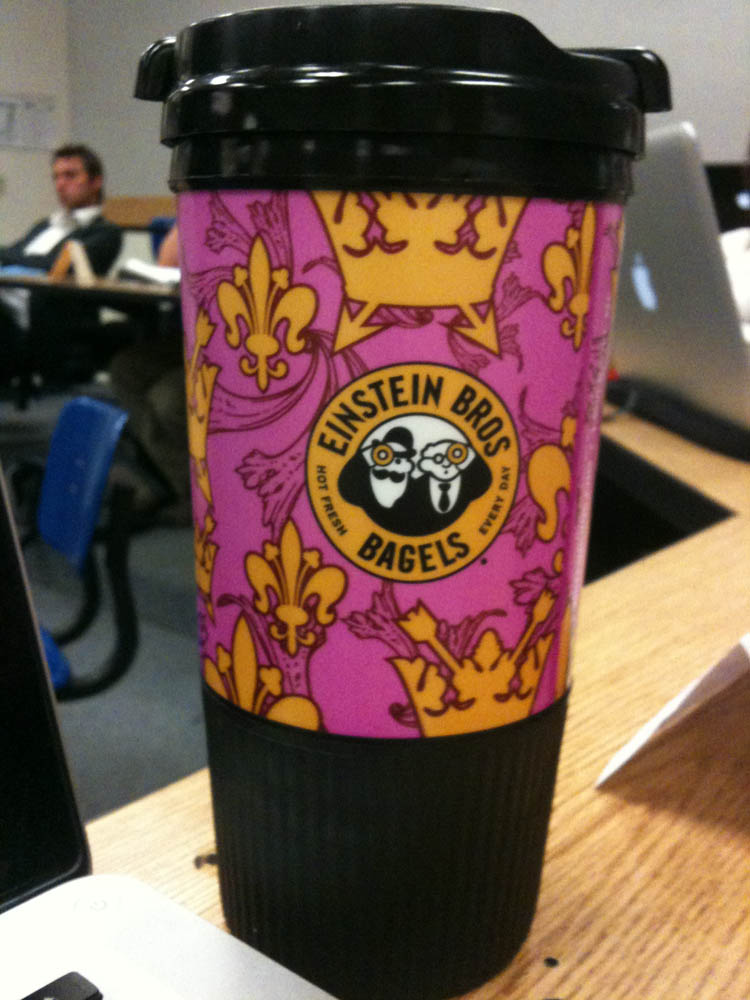 I had a coffee with a lovely girl this morning at the UNR Starbucks. I kept the cup all day. On my way back from the Wal this afternoon (there was a going-away party for one of my student intern coworkers who got a job) I stopped in to Starbucks to get my free refill.
To give a little backstory, I've been at Starbucks more often recently – our office participated in a recent KNPB user perception and awareness survey. Between administering surveys at various Starbucks across town and fueling myself in the final days of data entry and presentation preparation, I was at Starbucks almost every day. I'd buy one grande bold brew. Then, a few hours later I'd get a refill. It was the perfect amount of caffeine to get through the tasks at hand.
When I asked for my refill today, I didn't have a receipt. That hadn't stopped me before – the baristas knew me and didn't seem to care.
However, today it was a young gentlemen (I use that word loosely) who asked me if I'd like a refill. I presented my cup and said, "Yes."
He asked if I had a receipt.
I said, "No, but I promise this is the first refill I've gotten in this cup today."
He said it didn't matter – I needed the reciept.
I said, "Are you sure?"
"Yes," he said, firmly. "I'm sure."
I left, irritated.
I ran into my friend and his girlfriend on the way to class. I told them the story and he showed me his girlfriend's fancy new Einstein Bros. to-go cup that she purchased for $2.50. The first cup of coffee comes free with every refill costing only $1.
I turned around and went back to Einstein's, which happened to be just upstairs from Starbucks.
"I'm gonna get an awesome to-go cup and walk past Starbucks proudly," I thought.
Unfortunately, Einstein's had only one color left. I guess the moral of the story is that despite the color, I still bought it.