Just write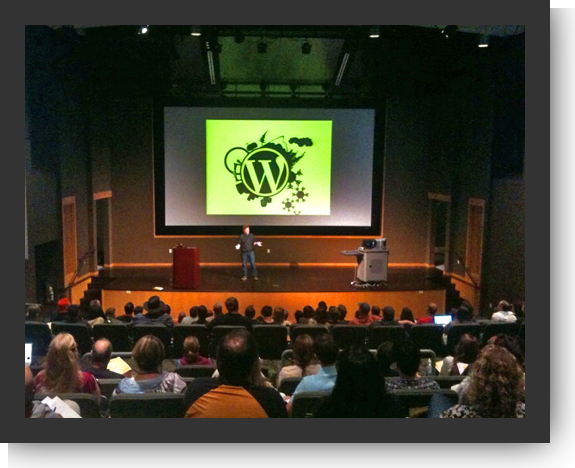 This year's Wordcamp
I recently attended a Wordcamp in Reno, at the Joe Crowley Student Union on the UNR campus. Wordcamps are locally organized seminars that take place across the country. They bring together those looking to improve their understanding of WordPress as a blogging platform and Content Management System (CMS) and how to use it most effectively for their businesses or personal websites. Instructors include local and out-of-town experts who speak on a variety of topics, from design, to philosophy, to search engine optimization (SEO).
The challenge to be awesome
While each of the speakers made important points, I was most intrigued by the keynote given by Merlin Mann. In a humorous, non-structured thought piece, Merlin mused on the potential dangers we all face when we focus more on the functionality of a website (its design, plugins, features, wow-factor) than we do on making sure the content – the stuff the customer really cares about – is awesome.
That's right, his talk was entitled, "There's no plugin for awesome" and it focused on foregoing the search for the next cool digital feature. Instead, identify the unique characteristic in each of us that, if nurtured and strengthened, could form the basis of an outstanding website – with information that is valued and respected by one's readership because of its applicability. He advocated specialization in lieu of broad-spectrum blogs that never got down to business – as there are likely thousands of other blogs out there doing the same, mundane job that you'll be doing if you don't differentiate.
Merlin presents a grand challenge. For those like me who are interested in many things, the most difficult part of blogging (as well as life) is finding that niche and then allowing oneself to forego other topics that are equally interesting to fully excel in one facet. It's a matter of sacrifice – a choice that everyone makes individually and on a daily basis. I have that same challenge with this blog – how to keep it honest, concise, and valuable to those of you who are reading it.
A simple solution
My answer? Practice. While Merlin dares us to find our awesomeness and run with it, I have a sneaking suspicion that practice is the key element. Watch, learn, act, repeat. Again and again and again. Do your best to craft a masterpiece, even if the initial results are lifeless, aimless, strings of nouns and verbs and adjectives.
Why? Because you'll get better, you'll find your rhythm, you'll refine your passion. You'll learn better what moves you, what inspires you. And you'll find out that what burns in you burns in others too.